Charlie Palmer in Esquire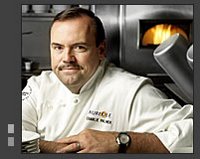 I was waiting in the salon for a severely tardy hairdresser this morning when I ran across an excellent profile of Sonoma's Charlie Palmer in the October Esquire. It is an excellent article, which you should
go read right now
.
Palmer and his family live in Sonoma, having moved out here from New York several years ago. He is probably the most obscure star chef in the Bay Area -- a major presence nationally, but around San Francisco, not the same household name as Alice Waters, Thomas Keller, Gary Danko or even Michael Mina.
This is partly because most of his restaurants are elsewhere. He has the Dry Creek Kitchen at Hotel Healdsburg, which he owns in conjunction with Circe Sher and her family, which includes real estate developer Merritt Sher.
But he also has three restaurants in New York, two in Vegas and one in DC. According to the caption on a photo accompanying the Esquire piece, he also makes his own wine near Sonoma for use in his restaurants.
Then there's the hotel: Palmer has a $300 million hotel project seeking city approvals in Las Vegas. By becoming a high-stakes real estate developer, Esquire says he is going "Where No Chef has Gone Before."
I, for one, am impressed. Chefs only began putting their names on restaurants in the last decade or so, and Palmer has taken the next logical step, which is to extend chef branding to broader hospitality offerings. As Esquire says, "the guy has stones, you gotta give him that."
I know I've been heavy with the Chris Yeo news lately, but I have to mention here that when he was
hanging out at our table
at Straits the other week he could not stop talking about his lifetime dream was to operate a hotel of his own. Paging Chip Conley, paging Clark Wolf, paging Steve Wynn, Yeo wants a hotel, and while you're at it Tom Duffy wants to open an all-brunch restaurant in Vegas.
More commentary on the hotel from
Michael Bauer
.
Labels: restaurants, vegas