Ferry rich indeed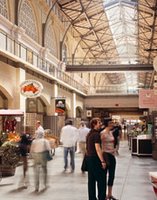 It's amazing how a neighborhood just takes off. In four years of covering hospitality in San Francisco, I have seen it happen with the Central Embarcadero neighborhood around the Ferry Building.
The Ferry Building is producing stellar business for restaurateurs, for example Charles Phan's Slanted Door is doing $12 million per year (
more numbers
), following the renovation completed and refilled with tenants by the start of 2004.
The boutique Hotel Vitale from Joie de Vivre completed last year is reportedly doing stellar business, pulling in Average Daily Rate in the ballpark of $225, surprisingly competitive with the Four Seasons, Park Hyatt/Meridien, Omni and W -- four-star business class hotels.
Robert Lam moved butterfly into the neighborhood a few years ago. Pat Kuleto and his investors are spending $18 million to build a restaurant there. The Exploratorium is planning to move in.
It helped that Boulevard and Ozumo were already there.
As if to underline the activity, the Hotel Griffon earlier this year sold for a record per-square foot price, though this is something of a gimmicky number, since hotel deals are usually measured per "key" or room.
Now the Hyatt Regency and Embarcadero Center want in on the action and are joining with Equity Office Properties, the Ferry Building developer and leaseholder, to begin formally branding and promoting the neighborhood, hoping to make it the next Union Square. This bit I
report in this week's Business Times
.
The Central Embarcadero would include everything from the ballpark up through Pier 5. That's where Pacific Waterfront Partners is putting in a restaurant-and-office project that seems likely to draw some interesting chefs.
In the Convention and Visitors Bureau's most recent survey, the Embarcadero drew 34 percent of hotel guests, compared with 73 percent for Union Square.
FREE link:
Tourist map gets redrawn
Labels: hotels, restaurants, scoop, tourism