Alice Waters is high RIGHT NOW, as a matter of fact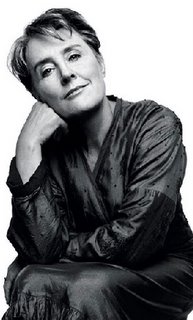 The last words in the April 2007 7x7 magazine are from an interview with Alice Waters:
What are your vices?



You mean in terms of food? Because I really console myself by eating and drinking.

Sex, drugs, rock and roll -- anything.

All of those things.
The reporter then transformed into a giant talking bundle of broccoli rabe, which Waters stabbed repeatedly with her chef's knife before curling into a quivering ball in the corner of the blood-soaked interview room.
Previously:
Drug dealers bankrolled Chez Panisse; Waters dropped LSD; hippie waiters stole wine, smok--zzzzzz ......
Labels: Alice Waters will slaughter you while you sleep, restaurants