And we're paying the architect with free soaps and bath towels
The
Chronicle follows and expands
on something
I wrote about
in August -- Joie de Vivre is sponsoring a contest to rename Japantown's storied Miyako Hotel and Miyako Inn, which have 343 rooms between them.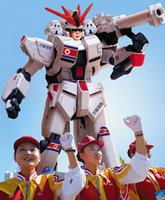 Joie sees the 125-room Miyako Inn becoming Giant Robot magazine meets Lucky magazine -- Japanese pop culture meets shopping. The Chron writes:
"The inn's low-profile, generic Japanese theme will be revamped into 'an energetic, optimistic expression' of contemporary Japanese culture, particularly anime, manga comic books, J-Pop music and street fashion, [Joie creative director Matt] Harvey said."

But get this: the prize for coming up with the new name for the inn is that they name a suite after you, plus you get "VIP treatment during a free weekend in the suite."
Is there a branding firm in the city that would work for even 10X the cost of a free weekend in a Best Western suite? Just askin'.
(Personally, I'm rooting for 'The Hello Kitty Best Western Inn & Airship,' but there may be some licensing kinks to work out.
)

Labels: hotels