Michelin: From 40 percent Euro to all-American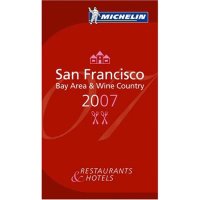 When I met with Michelin's North America Chairman Jim Micali Monday morning, I made a point of asking him about whether the guide's European standards should be adapted for the local food scene, especially places like Chez Panisse with simpler preparations.
And Jim made a point of telling me that "almost every inspector" was American -- according to both my memory and my notes. I printed this quote in
the updated version of my Web story
.
The Michelin PR representative who sat in on the meeting told me this morning that Jim actually stated it was a "majority" of the inspectors. So there is disagreement over what was said.
Today I read the copy of 7X7 magazine that arrived at my home yesterday. In it, Michelin Guide chief Jean-Luc Naret states "five inspectors worked on this guide -- three from Europe, two from California. Some from New York also helped." When I first read that quote, I felt misled by Michelin's statements about its American inspectors.
But Michelin says this quote is in error -- only two are from Europe, so in fact a "majority" of the inspectors are American.
Still, with a French guide director, standards originating in France and 40 percent of the inspectors from Europe, Michelin Guide is clearly open to interpretation as Eurocentric -- a position held by some top chefs, including Gary Danko.
Interesting, Michelin's PR representative also told me that the company's goal is that all U.S. inspectors be American within two years.
More Michelin:
If you have not yet seen this,
Michael Bauer has a very interesting list
of apparent factual inaccuracies in the guide, including:
The guide says Aziza has belly dancers on weekend evenings, but the owner says there have been no belly dancers for three years
The guide states Jamie Passot greets guests at the entrance to La Folie, but according to Bauer she has not done so for 12 years.,
The guide states Reed Hearon is at Rose Pistola, but he has not been there for at least three years.
Judy Rodgers has been at Zuni for about 19 years, not 26.
The guide states the following of Nick Peyton, who left restaurant Gary Danko in 2000:

It was at (the Ritz) that Danko met his partner Nick Peyton, who is responsible for the large brigade of skilled and knowledgable waiters who always seem to be there when needed ...

Bauer feels this implies Peyton is still involved in the restaurant, though my initial read is that it's simply unclear and that a reader impression is different from factual inaccuracy. When I first read this passage Monday night, I remember being surprised Peyton was still involved, however, and ideally there should be a clear indication Peyton is gone. Why mention him at all?
Labels: michelin, restaurants