'Rising Star' chef awards are bizarre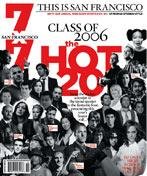 I was paging through 7X7 magazine's "Hot 20" under 40 list,
looking at the chefs
.
You have Daniel Patterson, 38, he of the Alice Waters-ain't-all-that rant in the New York Times, elisabeth daniel, Farallon and Coi. Joel Huff, executive chef at newly-ascendant Silks. Jay Foster, chef/owner of Farmer Brown, which my friend Bibendum hasn't heard of ("neo soul food," according to Michael Bauer).
I can't quibble with any of these choices.
Except that they are bizarrely arbitrary. And ridiculously perishable. Like all lists of "rising stars."
Case study: Melissa Perello. Becomes executive chef at Charles Nob Hill at age 24. The next year, is named a "Rising Star" by the San Francisco Chronicle. Not on the Chronicle list in subsequent years, presumably because one only gets to be on it once.
Which is fine, because Perello gets nominated for a James Beard rising star chef award in 2003. Gets nominated again in 2005.
Her Fifth Floor wins a Michelin star at the start of October.
There's no doubt Perello was -- and is -- a rising star. She's just 29, with a Michelin star, and is maintaining three Chronicle stars awarded to Laurent Gras. And yet you would not see her on the 2006 7X7 list, 2006 Chronicle rising list or the 2006 James Beard rising star nominations.
Perello is just one example of someone who should still be a 'rising star' this year but is not. I could make a similar case for 31-year-old chef Stuart Brioza of Rubicon, who with partner Nicole Krasinski has earned a Michelin star and raves from both the New York Times and the Chronicle.
There are surely explanations for Perello and Brioza's absence from the lists, reasons having to do with editorial and awards policy. Usually, there's a cap on how often one can be nominated for a particular list.
But the constant need for fresh meat for 'rising star' chef charcuterie may be overwhelming readers. All the new names, from various sources, seem increasingly likely to include as many future mediocrities as future stars.
(Postscript: Just as I thought, Perello did not make the 7X7 list because she was already on it, in 2003.)
Labels: Daniel Patterson incinerates infidels with his tightly-controlled mind, restaurants