Michelin's forgotten chapter: the hotels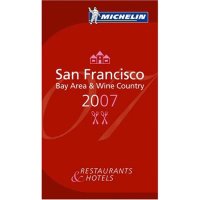 The Michelen "red book" guide for the San Francisco Bay Area includes not only restaurant rankings but also rankings for hotels.
The rankings are on a one-to-five scale of house icons, with a special demarkation for "Agreeable features: pleasant hotel/restaurant."
Clear winner is the Ritz-Carlton, which garnered the only five-house rating, plus the "agreeable" demarkation.
Surprisingly, neither the Four Seasons or St. Regis could rise above four houses. In fact, the guide ranks the Four Seasons with the JW Marriot, which did surprisingly well.
Boutique hotels not affiliated with the big national chains did well, with disproportionate representation among the 2s and 3s.
Hey, where the heck is the Mark Hopkins Intercontinental?
Some highlights, with
"agreeable/pleasant" demarkation winners in red
and surprises in
bold
:
Five houses:
Four houses:
Auberge du Solei
The Fairmont
Four Seasons
Hotel Healdsburg
JW Marriot (formerly Pan Pacific)
Mandarin Oriental
Meadowwood

Omni

Palace



St. Regis
West St. Francis
Three houses:
The Argent
Argonaut
Casa Madrona
Claremont
Clift
Hotel De Anza
Fairmont Sonoma
Gaige House Inn
Les Mars
Hotel Monaco
Hotel Montgomery
Napa River Inn
Hotel Nikko
Palomar
Hotel Valencia
Villagio Inn
Vintage Inn
Vitners Inn
Vitale
Washington Inn

Labels: michelin, restaurants