The Straits Dope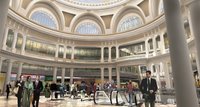 I had a lengthy lunch at Straits Cafe in San Francisco Centre this past Thursday with a hotel industry source, and had an interesting conversation with chef/owner Chris Yeo.
Chris told me -- after I identified myself as a reporter -- that he does about $7.8 million per year in revenue out of his Santana Row location, roughly 8,000 square feet. In San Francisco, he's at a tighter 5,000 square feet and 80 seats, but with Westfield spent about $2.8 million on the tenant improvements. That helps keep the employee head count below 50, above which Yeo would have to unionize.
Chris seemed utterly at ease talking about dollars and cents, enjoying a break from the physical exertion of the kitchen and floor. This comfort with money made even more sense when Chris informed me he got his start as a hairdresser and opened his first restaurant with only one month's rent, no deposit and no real credit to speak of.
Chris is so busy juggling customers -- the room was brim-full when we arrived for lunch at 1 pm -- that within five days of my visit he stopped taking lunch reservations. This may help bring in the ladies who lunch, but could also backfire among the big-spending expense-account types who from the business community, who typically appreciate the certainty that a reservation at least simulates.
Labels: restaurants, scoop, sfcentre