The Chowhounds do not want your Michelin guide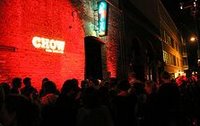 Precisely 10 days after Michelin Guide convened an intimate, sedate Ferry Building
soiree
to hand out the first copies of the stuffy San Francisco Michelin Guide, CNET's Chow.com launched last night with a loud, jam-packed party at Bix and the alley outside.
It is impossible not to compare the two events and the two companies. Michelin's guide and party fit with an old European model, where restaurants fit into a clear hierarchy handed down from on high. Chow.com seemed brash and American, even San Franciscan; a loud, diverse, at times chaotic, at times overcommercial attempt to sift food and restaurants along many different lines.
The Chow.com event had that manic dot-com energy I haven't felt for more than half a decade. There were the fancy, expensive-but-free cocktails, with names like "Thai Fighter" and "
Ruby on Rails
".
There was Chris Nolan, the former Silicon Valley gossip columnist I last ran into at a Red Herring magazine party at Ruby Skye in 2000. (She now edits
Spot-On
.)
And there were the ascendant, omnipresent bloggers. Amy Sherman was there, schmoozer par excellence, as was Pim of Chez Pim.
Pim, recently departed from her day job, broke the news that she has a book deal, though I could not catch her long enough to find out the topic or publisher. I have sent a hopeful email asking for the details.
If there was a hushed air of inevitability and envy at the Michelin party, the Chow launch was loud, triumphant, perhaps a little over-the-top and starry-eyed, but in the most endearing fashion possible.
Editor Jane Goldman fled the scene when I pulled out my notebook -- I can hardly blame her -- but quickly and graciously replied to an email query about whether recipe-obsessed Chow will include restaurant coverage:
Right now, just starting out, it's probably out of our grasp to cover restaurants across the country in any meaningful way. Especially because we have Chowhound, we've felt that we could wait for a while. But it's coming soon. In fact, we plan fairly extensive coverage.

Great party photos
here
. The Business Times' past coverage of Chow
here
(free link).
(This post was
corrected
.)
Labels: michelin, restaurants