Yes, Virginia, ranch is a food group.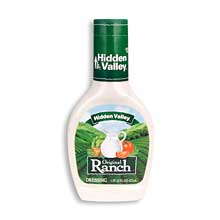 Oakland's Clorox has
jumped onto
the healthier-school-lunch bandwagon, donating $15,000 to an Oakland elementary school to promote fruits and vegetables among the kids.
Actually, the money comes from Clorox's Hidden Valley brand of ranch dressing, which is making similar donations at six other elementary schools around the country.
The donation came on the heels of a
report
in the New York Times that Bill Clinton will "take on the Agriculture Department and improve what is put on the plates of the government-approved school lunch." Clinton has already made Coke and Pepsi promise to take soda out of schoolyards.
The donation also comes as corporations are increasingly
trying to co-opt
the healthier-lunch trend, with soy-based lunch meats, pre-wrapped fruit packs and tortilla wraps.
In the Bay Area, the notion of natural, fresh and healthier lunches has not been very controversial. It helps that Alice Waters has been a major leader of that movement.
But there certainly seems to be room for a backlash as larger food corporations get more involved. There's also been pushback from the kids -- see the New Yorker's
Lunchroom Rebellion
, set in Berkeley, if you haven't already. And anger from parents,
at least in Britain
, where parents are smuggling in fish and chips as an alternative to "overpriced, low-fat rubbish" brought about by chef Jamie Oliver.
Labels: food