Rumor has it: Chris Nolan stopped gossiping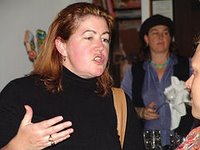 A little birdie -- OK, it's Chris Nolan -- tells me Chris Nolan has not written a gossip column for five years, at least not for a salary. And yet I erroneously called her a gossip columnist in my
Oct. 11 post
on the Chow.com launch.
These days she writes and rides heard over the 9 other contributors at
her Spot-On.com
, a site for political and social commentary. (Tip: Look for fresh posts down the right side of the front page.)
As for tech gossip, well, I'm not sure where to point you. I kind of a lot miss Chris. I guess there's always
Steve Jobs' blog
.
Labels: corrections, michelin, restaurants