Dubai to all that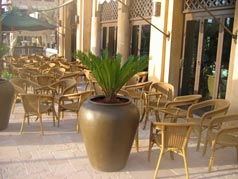 November's Bon Apetit magazine tels us that Maya fouder Richard Sandoval, of New York, plans a Maya in Dubai.
Dubai, of course, is the boomtown Arab Emirate fashioning itself into a global hospitality destination, complete with artificial archipelago.
The emirate has drawn in the major hotel brands. Now it's attracting the restaurateurs.
Bay Area examples include Corte Madera-based Trader Vic's, which opened its second Dubai City Trader Vic's -- the first second location in any city -- in 2004.
There's also Puccini Group, the restaurant design consultancy that is hot and heavy doing design work in Dubai, as I began reporting
in a Business Times column
in 2005.
With top Bay Area chefs active in Las Vegas, New York and Southern California, it seems only a matter of time before one ends up in Dubai.
Labels: hotels, restaurants