Your Scotched Eggs are now ready: Salt House open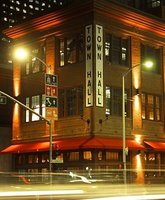 A 5:14 pm email brings word that Town Hall spinoff Salt House is now open, bringing to San Francisco the "gastropub" trend of London, which is basically a bar with high-quality food.
Until now, Salt House's most recent and specific opening date was "by the end of October."
The press release says signatures include "scotch eggs," "pressed suckling pig with truffled membrillo," "housemade charcuterie," and "pot pie with duck confit." There will also be "custom, private label" wine available in half bottles. A "raw bar" is mentioned.
In terms of decor, Salt House is aiming for the look of a British pub, with a communal table, mezzanine and "pinstripe banquettes." (I can't tell if you British pubs have any of those, but the mezzanine does not sound like a common feature of one.)
Here's the October menu PDF
.
As I've reported previously, the Town Hall team is also in talks about an Oakland spinoff.
Labels: restaurants