Mall madness for Centre chefs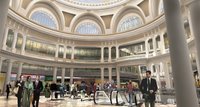 After
my post
last month on someone being ejected from the food court at the new gourmet food court in Westfield San Francisco Centre, I kept hearing of more and more hiccups.
Thanks to a weekend power outage, Tom Colicchio had to push back the opening of his 'wichraft sandwich shop a day, losing hundreds of orders. He reports a neighbor lost five tractor trailers full of food, though I could not run this down for confirmation.
Then Luigi at Beard Papa's told me of an errant fire alarm, that just happened to go off during a weekend lunch rush. The whole place had to be evacuated, and when people were let back in, the rush had subsided, which means lots of lost sales. (Although Beard Papa's had a hectic opening even without the fire drill, Cruz added.)
Then there's the issue of about half the restaurants not being able to take advantage of the crush of customers in the mall's first weeks because they could not open in time, given how mall construction unfolded.
Something tells me, though, that the brisk business everyone I have spoken with claims to be doign is going to more than make up for the hiccups. Assuming the hiccups stop.
From the Business Times:

New Westfield food is too much to swallow at once
Labels: restaurants, scoop, sfcentre